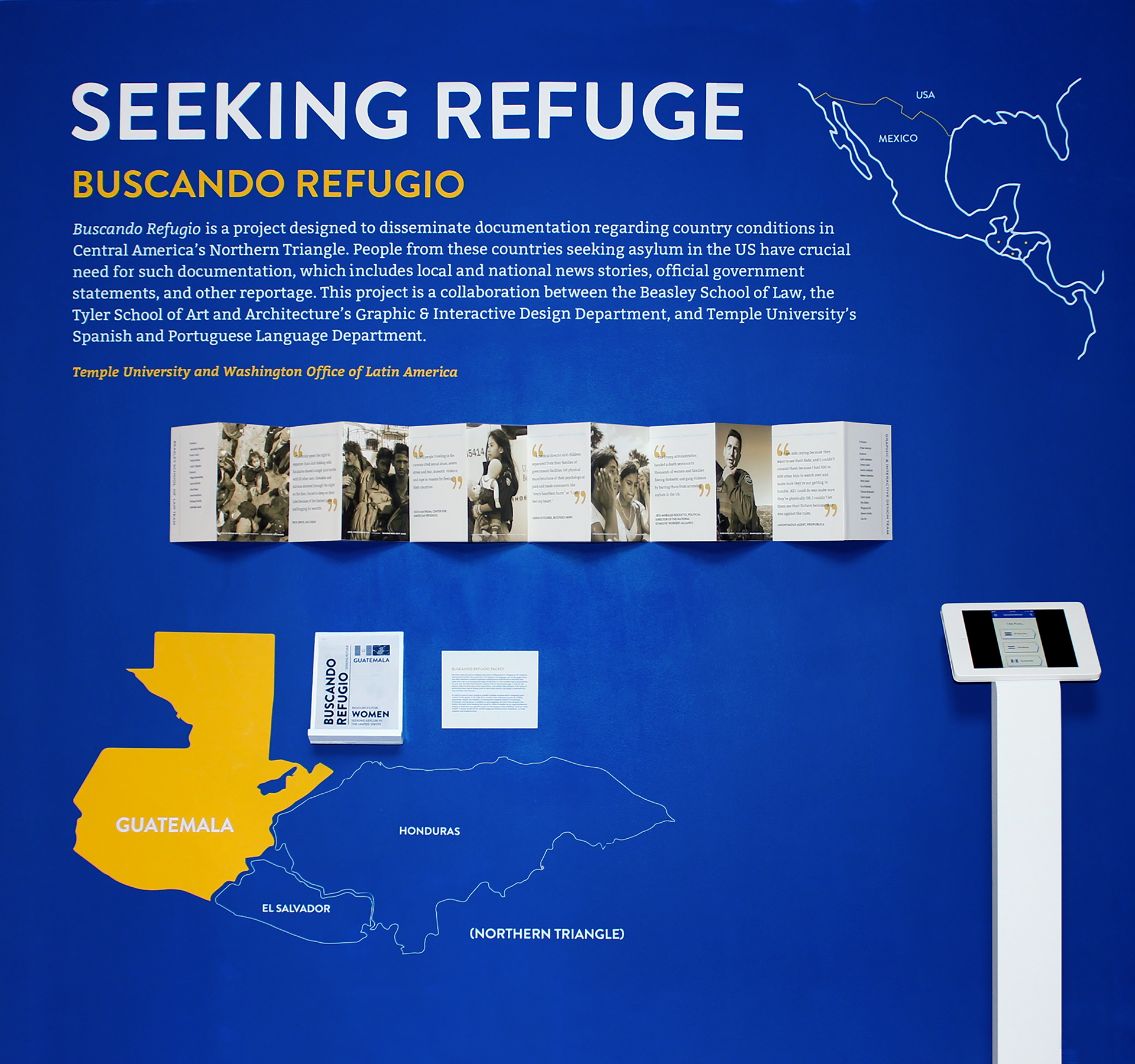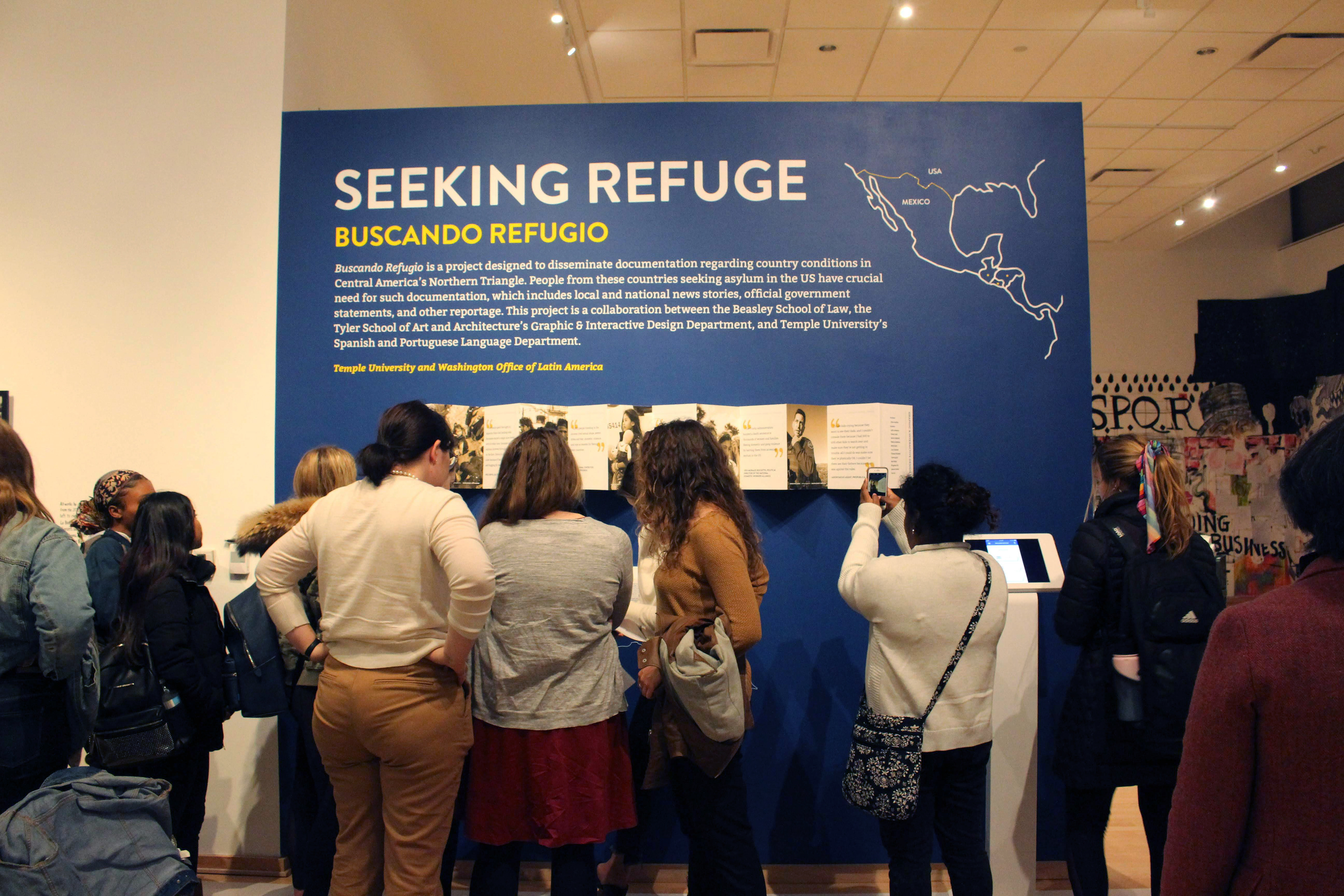 Buscando Refugio (Seeking Refuge) is a collaboration between Temple Law faculty members Jaya Ramji-Nogales, Linh H. Nguyen, Emily Alvarez and Bryan Satalino's Senior Design Workshop class at Tyler School of Art and Architecture. Its goal is to educate asylum seekers from El Salvador, Guatemala, and Honduras on how to get asylum in the US, as well as inform an American audience about the hardships these people face.​​​​​​​
Many people from El Salvador, Honduras, and Guatemala face domestic abuse, gang violence, and LGBTQ+ persecution. Because their countries are so small, they can't escape these situations without getting out of the country. Their safest bet is to come to the United States, but once there, they face a long and challenging process of proving they are eligible for asylum.  
Senior Design Workshop was tasked with designing a way to spread information about the asylum seeking process. We were divided into three teams, a print team, a web team, and an exhibition team, to tackle this issue on all fronts. We decided on a visual style together and then split up into our teams to create each piece.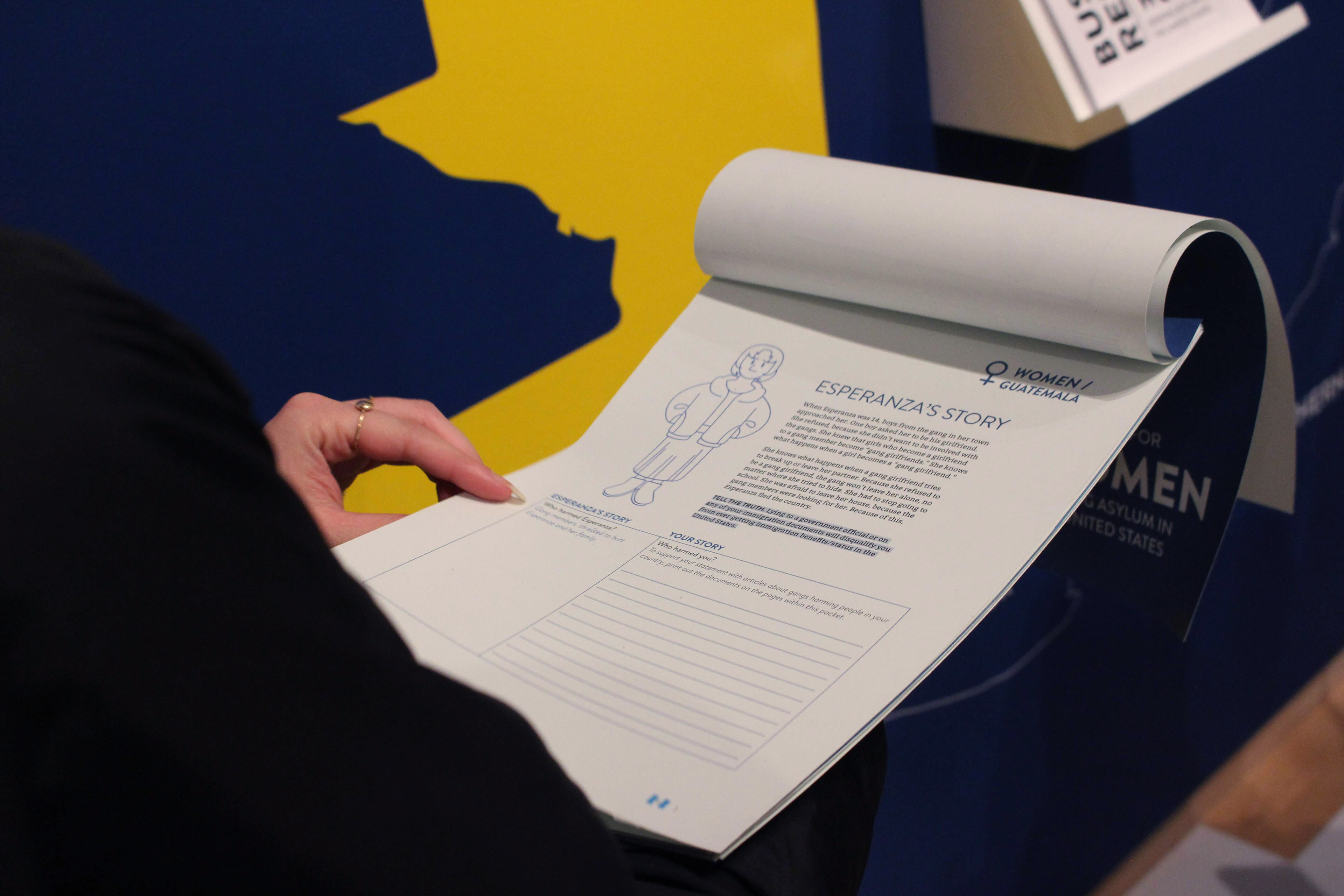 Printed Piece
The print team created a system to display information to people based on where they are from and who they are. They only had time to make one pamphlet, but the goal is to have nine in total. Each of the three countries will have a booklet for women, LGBTQ+, and children. These booklets are designed to be easy to read and to tear off any pages relevant to the reader. Asylum seekers can gain knowledge on the process of seeking asylum and read stories from people in similar situation to them, which they can show to their lawyers.
Mobile Website
The web team created a mobile website for asylum seekers. It has a similar purpose to the printed piece, but both are necessary so that anyone can access the information. If they cannot get something printed, they can look at something on their phone.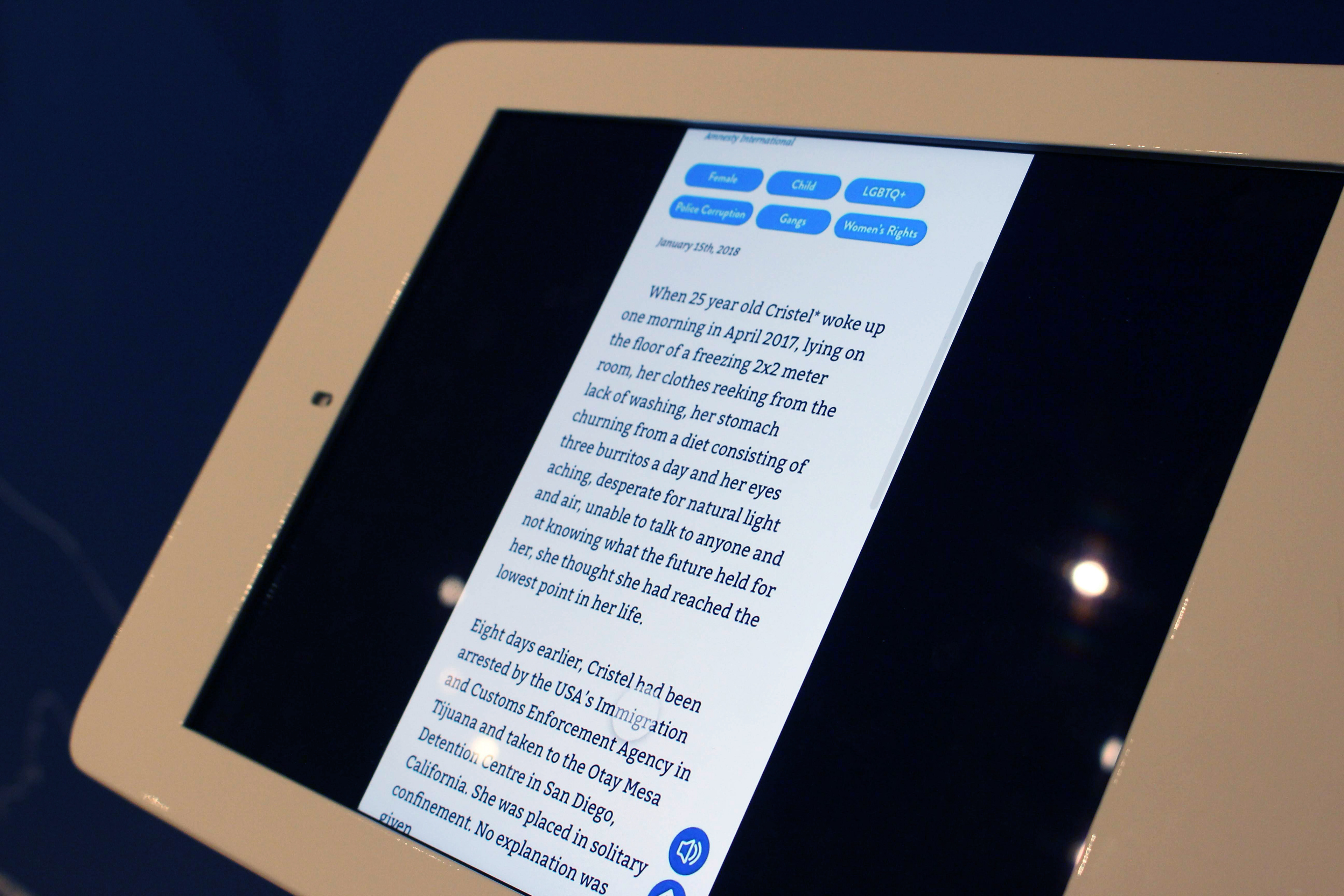 Exhibition
I was part of the exhibition team, and it was our job to inform an American audience of all that was happening. We had a lot of information to convey, but only a small space to convey it. It also had to look interesting enough for people to want to spend time reading it. To begin, we sketched out ideas for the exhibition. We went through many iterations of sketches, being critiqued each time by the Temple Contemporary director Robert Blackson as well as our Professor, Bryan Satalino.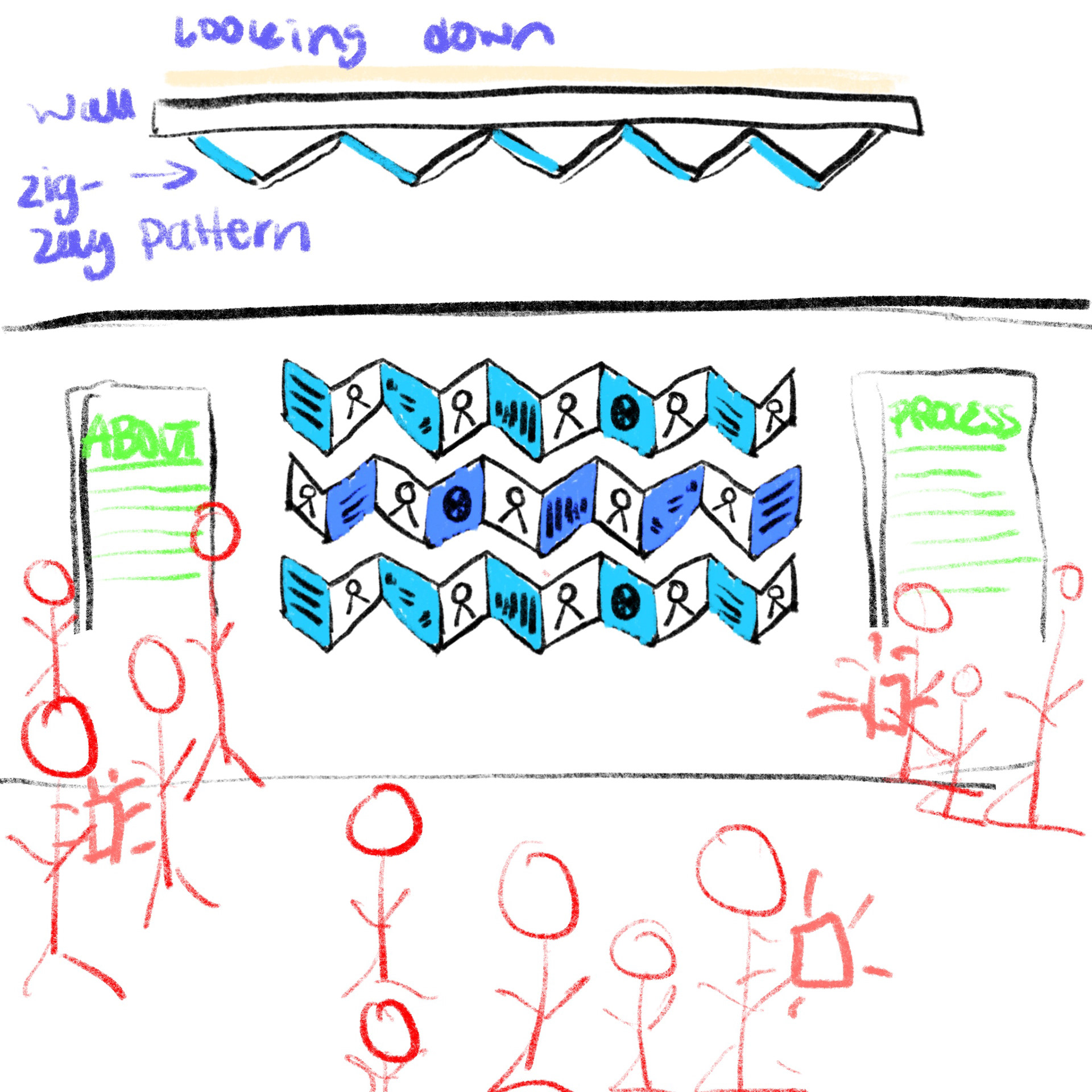 Sketching
Our initial ideas were determined to be too gimmicky, so we went with a zig-zag style mount for photos and quotes as the main draw, with vinyl text and maps for information. We also needed to display the printed piece and website in the exhibition, so we made a shelf and brought an iPad display out to play a video of the screen flow of the website.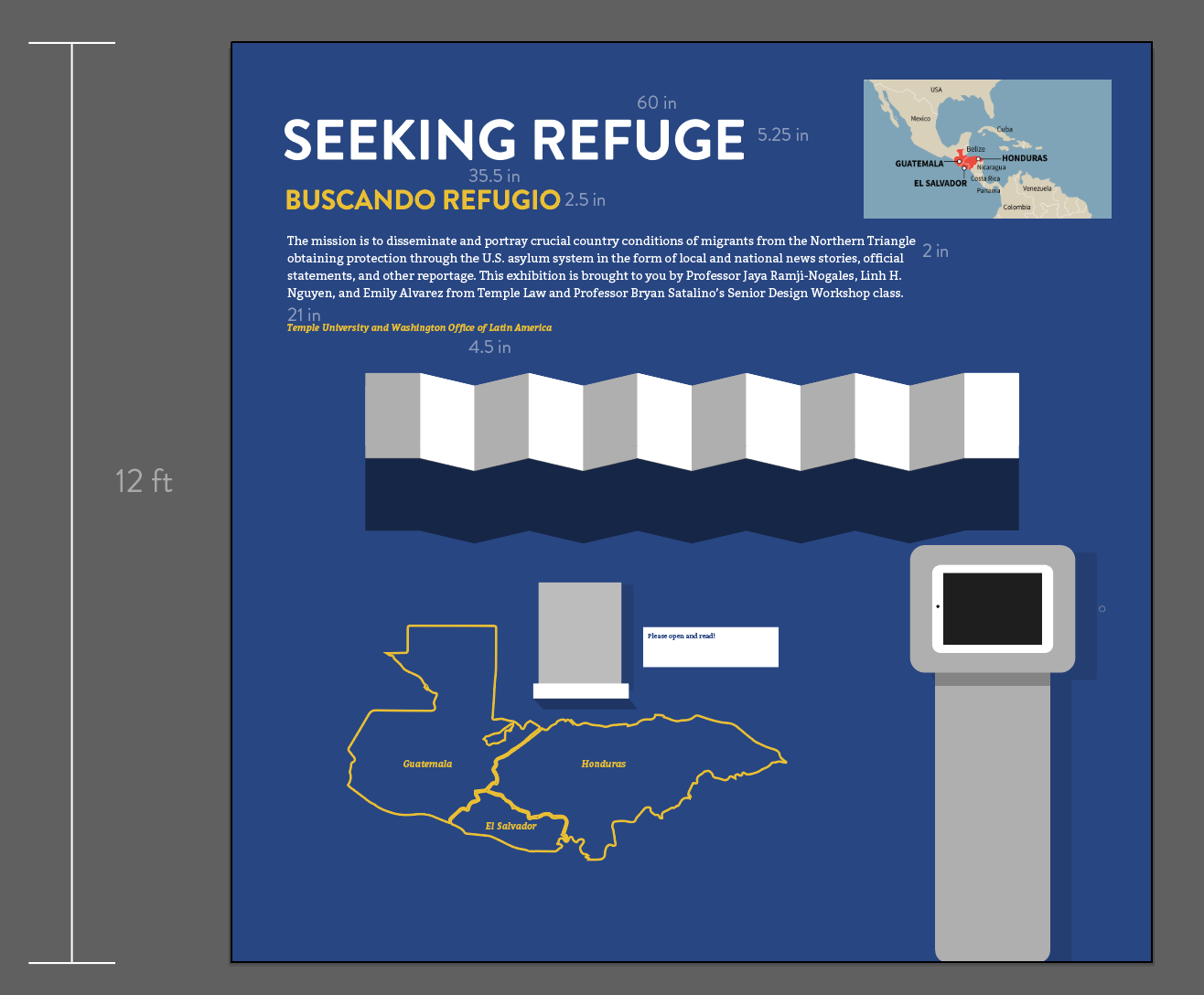 Construction
Every team member collaborated a little on everything, but we still split up the work a bit. The zig-zag formation was mostly my duty, and it took a lot of trial and error to get right. The final product is made of foam board pieces glued together with the photographs and quotes mounted on in paper.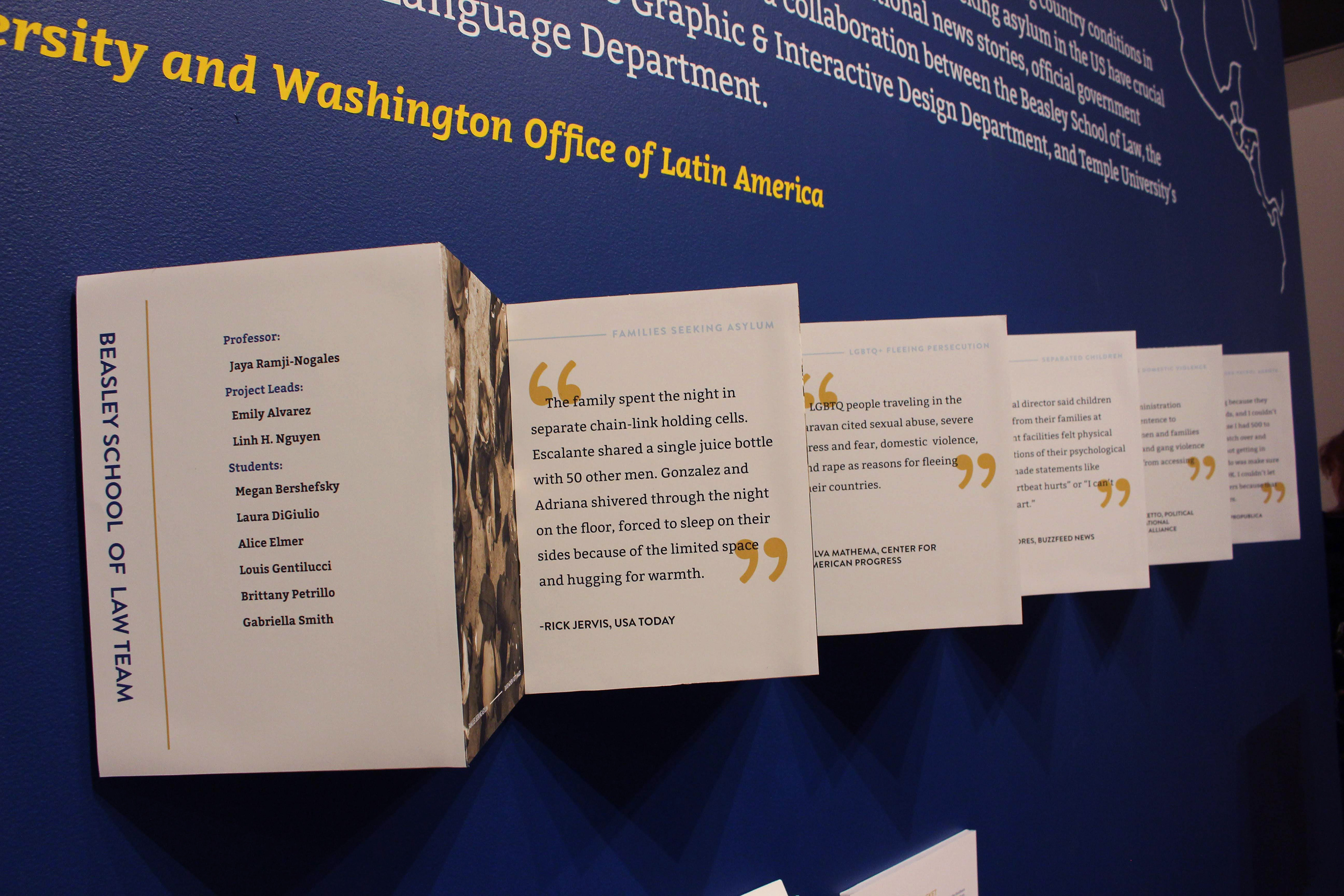 The images and quotes we chose to mount on the zig-zag each fell into a category: women, children, LGBTQ+, and border patrol agents. The photos had to be high quality and we wanted the quotes to not just portray information, but be personal and humanize the people that this situation effects. 

The construction of the zig-zag itself was extremely time consuming. It was my first time working with the material and cutting it the right way took a while to get down, so I had to make them a bit smaller than we had initially planned. Once it was all constructed, we realized that the images all printed wrong and we had to print them again before attaching. 
Installation
The exhibition went up in one day, but it was a long day. The shelf and zig-zag were surprisingly easy to attach to the wall, but the vinyl was a problem. It was extremely difficult to attach to the wall, most likely due to the glossy paint. Most of the time was spent attaching vinyl, which was surprising because it seemed like it would have been the easiest portion.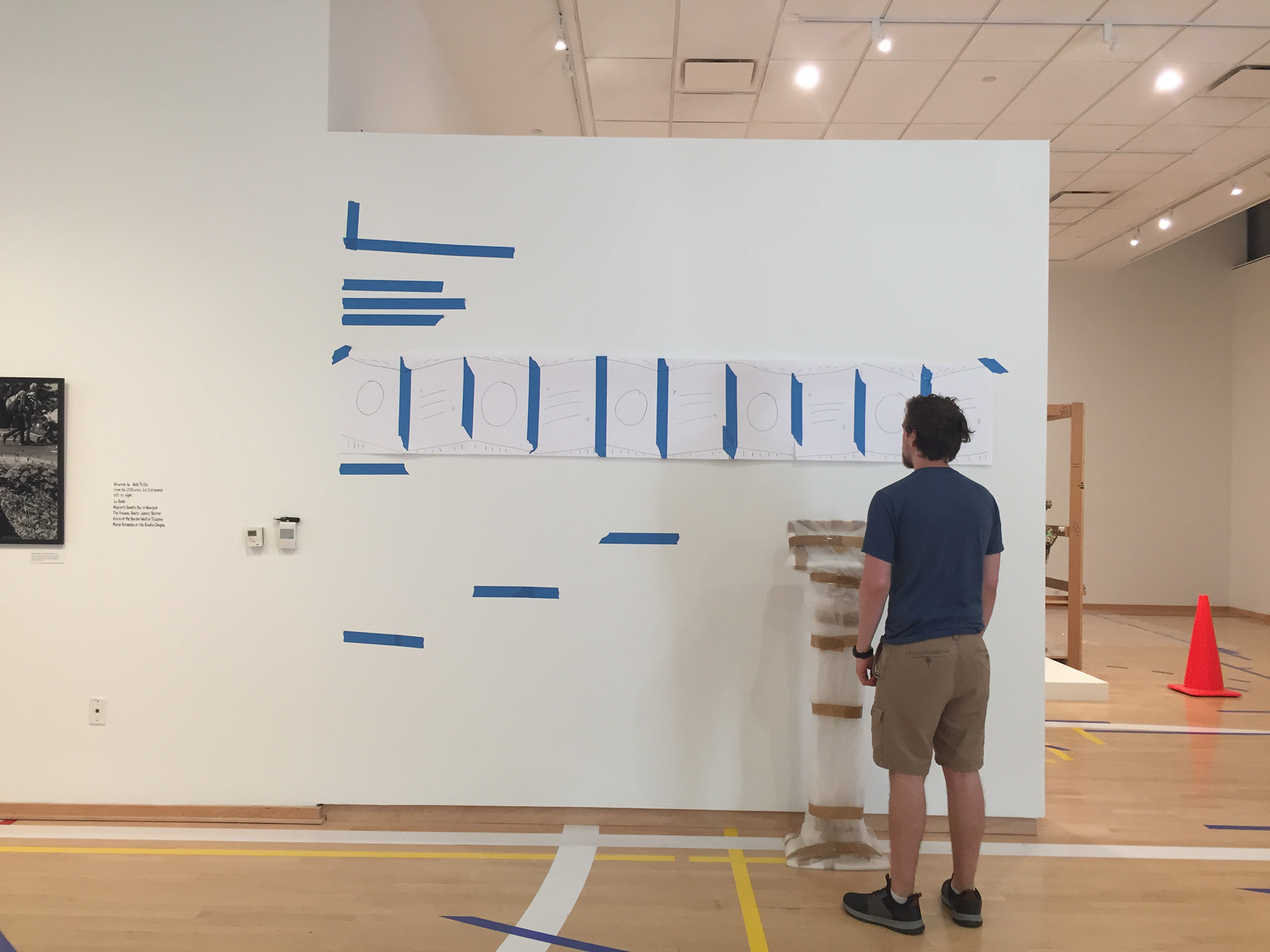 Presentation
I was only expecting the design workshop class and law class to show up for the presentation, but the room was filled with people. After it was done, everyone was crowding around the exhibit and talking about it, which felt really good. The hard work was all worth it.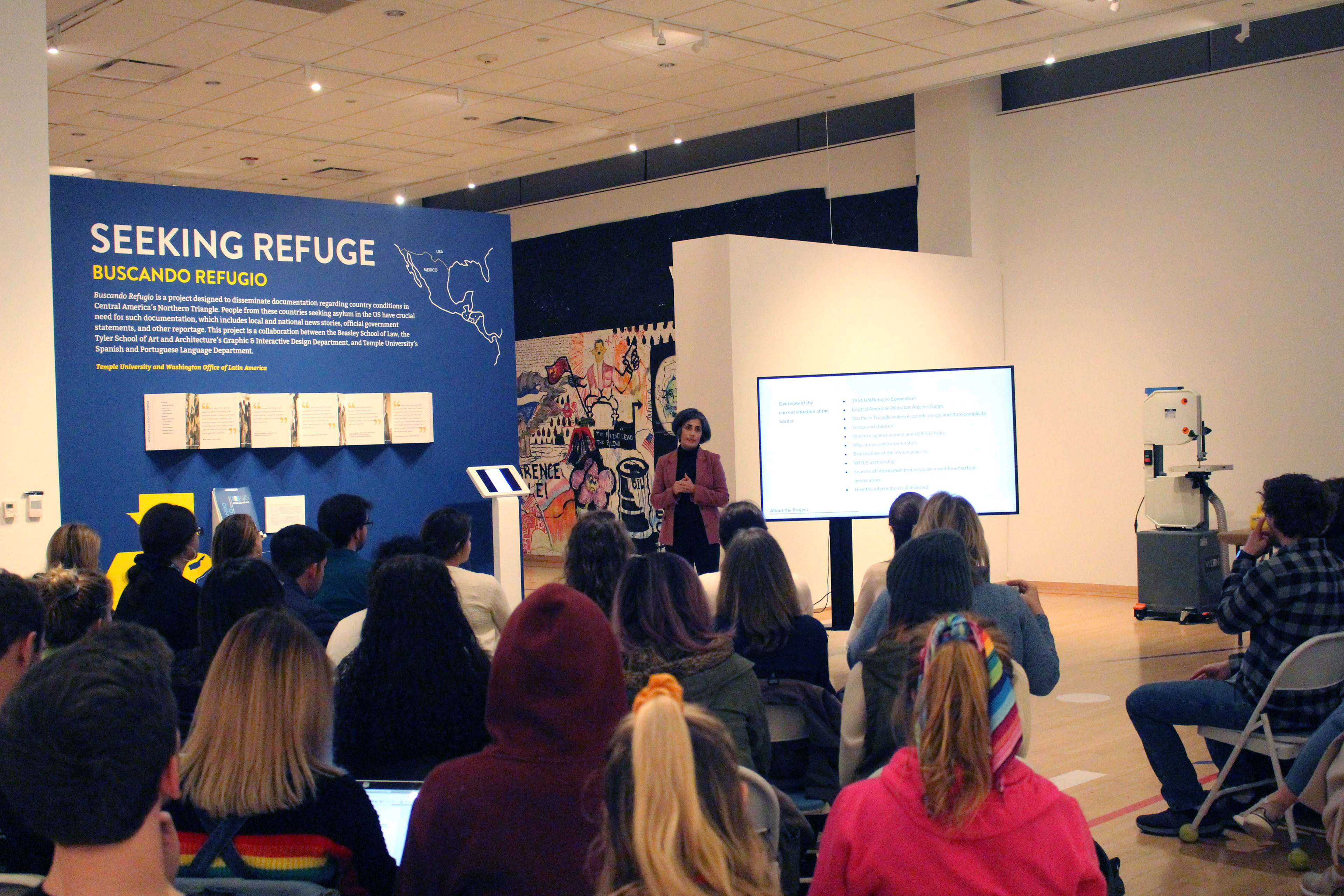 Final Words
This was a very long and challenging project, but the end result was worth it. I gained a lot of experience in working in a team and with real-world events, and I am happy that a project I worked on will help people struggling in real life.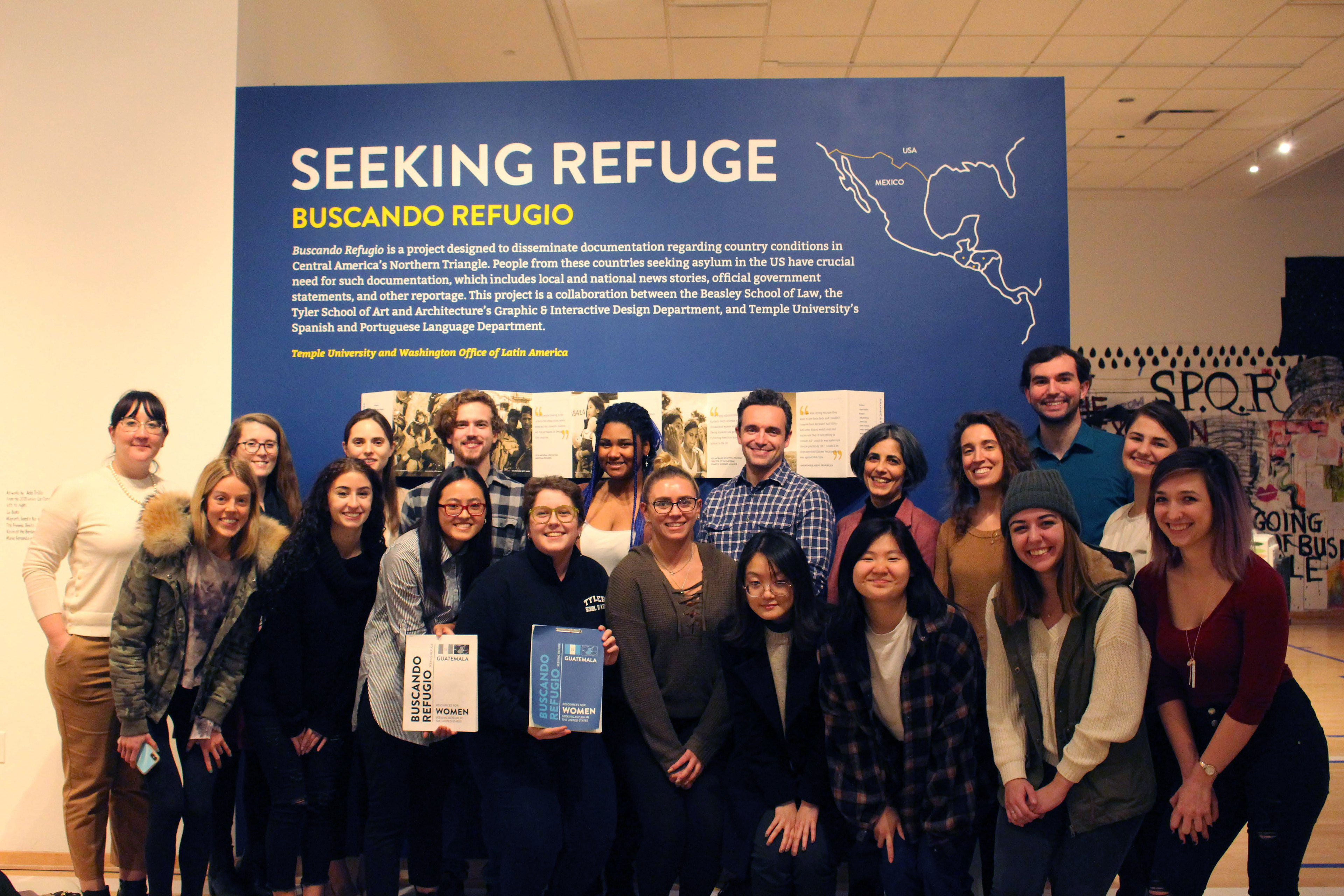 Art direction: Bryan Satalino, Robert Blackson